Indian Polity by M Laxmikant 6th Edition (Summary) PDF [Free Download]
Indian Polity by M Laxmikant 6th Edition (Summary) PDF, Today We are sharing with you notes and study materials to achieve your goal. Well, you are on the right page. Now We are Sharing With You Indian Polity by M Laxmikant 6th Edition (Summary) PDF
Join UPSC Telegram Channel
Topics Covered in the Summary:
Constitution of India: Historical Overview
What is the constitution?
Constitution of India: Outstanding feature
The preamble of the Constitution
Union and its territory
Union Territory
Citizenship
Fundamental rights
Directive principle of state policy
Fundamental duties
President of India
Vice president of India
Prime minister of the union council of ministers
Attorney general of India
Parliament of India
Supreme court of India
The parliament and public finance
Comptroller and auditor general of India
Judicial reforms
The governor
The chief minister
State legislators Vidhan Parishad and Vidhan sabha
The high court
Union state relations
Electoral system
Local self-government
Municipality
Schedule
UPSC
Emergency provision
This book is considered important because it presents a detailed explanation of all the topics related to politics and it fulfills all the needs of the general readers. It is continuously revised by the author due to which all the important updates are present in the book and the importance of this book increases a lot for the students interested in politics.
Because this book is too bulky, many students find it difficult to read the book and after reading it, they do not even pay attention to the revision, due to which the students are unable to remember what they have read.
so today through this post we are going to Presenting Laxmikant's polity short summary pdf. because of this, there will be no pressure on the student to read the whole book and he can read and understand only important topics. Due to this, your chances of getting good marks in the exam will also increase.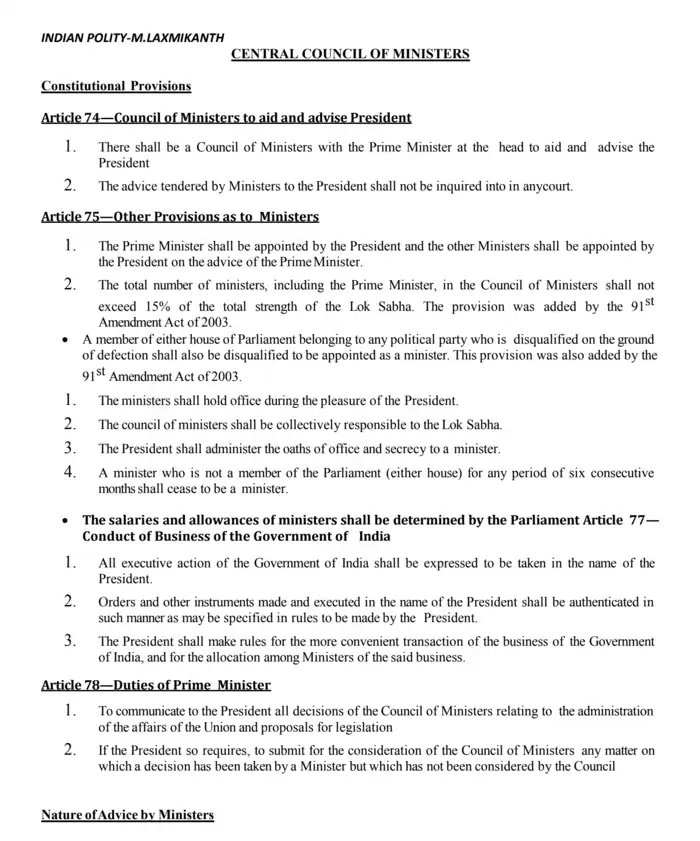 Download Indian Polity by M Laxmikant 6th Edition (Summary) PDF
---
Indian Polity by M Laxmikant 6th Edition (Summary) PDF:
---
More Information About UPSC:
If you don't have access to UPSC Prelims material and UPSC Mains material and UPSC Optionals material and Test Series [Prelims/Mains] and also Magazine you can also follow their website and be updated.
All PDF which are provided here are for Education purposes only. Please utilize them for building your knowledge and don't make them Commercial. We request you to respect our Hard Work. We are Providing Everything Free Here. UPSC IAS Will Not Charge Any Cost For Any Service Here.
If you are new to UPSC field, We recommend you to know about UPSC Prelims and UPSC Mains and UPSC Optionals and Test Series [Prelims/Mains] and also Magazine for better Understanding, and if anyone have any problem with website or advertisements please contact me ourstudycirclewebsite@gmail.com
UPSC IAS does not own this book, neither created nor scanned. we just providing the links already available on Internet. if any way it violates the law or has any issues then kindly contact us. Thank you.
Also Download: